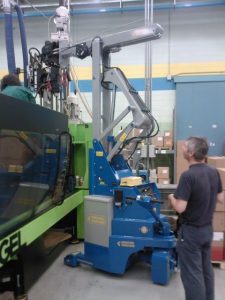 Amidst the wealth of lifting and moving equipment available, mobile pick and carry mini cranes are becoming increasingly popular. Due to their versatility, mini crane hire as well as outright purchase is becoming commonplace within the machine moving industries. There are lots of different options, however to maximise efficiency and value for money and to minimise health and safety risks associated with using machine moving equipment, it's essential to choose the correct piece of machinery for the job. The knowledge of your supplier is priceless and gives buying a new model a clear advantage over buying a used mini crane.
By mixing heavy lifting capacity with mobility, these machines make extremely versatile tools. One of the most common applications is as a smaller and more agile alternative to using a forklift truck when changing the mould in plastic injection moulding machines or handling moulds in the tyre manufacturing industry. Their small size mean they can be moved to different areas of the workplace for a variety of uses, giving them a huge advantage over static or bulky machinery which must be used in situ. This is especially true in busy industrial areas where straightforward routes to move large pieces of equipment are rare. Combining vertical and horizontal movement, the wide reach makes them the preferred equipment to move heavy loads at height, especially where journey path is non linear.
Depending on your lifting needs, HTS offers three core solutions which are further customisable to enhance optimisation and cover every application.
The GB-Series Mini Crane is a flexible option that can lift up to 750kg and be used in civil areas too. Its lightweight frame facilitates easy transportation so it can be used across even a large site. With high quality construction, it is rendered virtually indestructible making it a solid investment for those looking to enter the market. The GIA-Series Mini Crane is available in both standard and compact. It mixes lifting capacity of up to 3 tons with a lightweight frame to provide a universal solution for heavy lifting in awkward spaces. Finally The Mobile Crane Minidrel B-Series offers the maximum drive power. Through their patented kinematics system they are able to lift loads of up to 40% more than traditional lifting units of this class. HTS models can lift between 4 and 25 tonnes, providing a unique solution for really heavy loads.
When making an investment in a piece of equipment for your workplace, always find a knowledgeable and reputable supplier to get the best option for the job. By making sure the machine is fit for purpose and undertaking regular maintenance and servicing, you ensure that you will be able to benefit from it for years to come.
Interested in finding out how a mobile mini crane could optimise your workplace lifting processes? Call us today on 01785 816 747 or email us on sales@htsdirect.com.