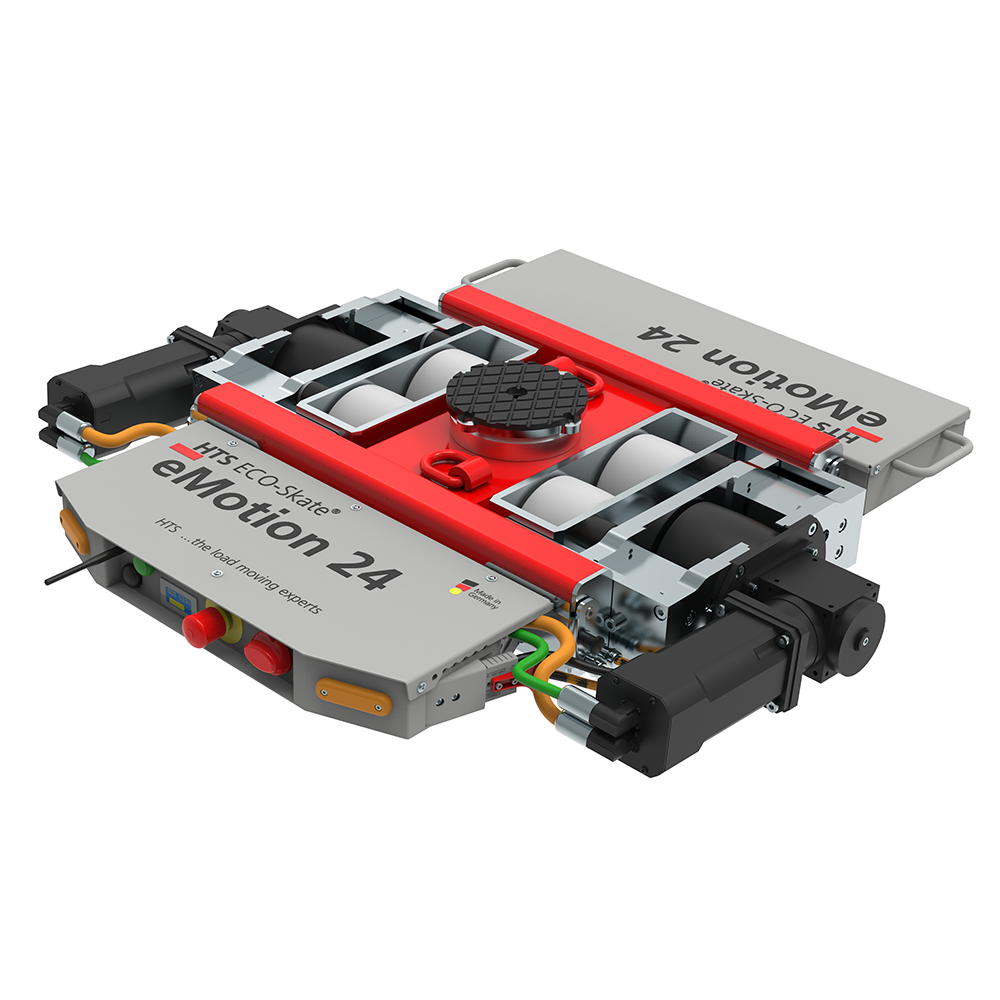 New compact, powered load moving skate with 24-tonne load capacity complements the HTS ECO-Skate® eMotion model range
June 30, 2022
With the ECO-Skate® eMotion load moving skates, machines and other parts can flexibly and location independantly be moved with battery operation and radio remote control.
The new eMotion 24 now complements the range and closes the gap between the small eMotion 10 with 10 tonnes total load capacity and the extra low 110 mm installation height and the eMotion 40, which has been available for many years, with 40 tonnes load capacity, 180 mm installation height and optional lift.
On three support points, simultaneous driving and steering at three speeds as well as safe positioning are possible and proportionally executed by one person using the one-joystick function of the remote control. Compactly built with an installation height of 180 mm and powerful, digitally controlled synchronous motors and a battery life of 2.5 hours under full load, the ECO-Skate® eMotion 24 is suitable for use in confined spaces due to its compact design. As no towing vehicle is required, the transport distance can be reduced by up to six metres. With only one joystick, easy steering and constant straight running is possible in all areas. If desired, an integrated lift cylinder extends the application possibilities and provides even more independence during the transport process.
Two eMotion 24 load moving skates are available as DUO version and can be moved synchronously with a radio remote control. An ECO Skate® ROTO rotary skate can be used as a third support point.
At the bauma fair in Munich, visitors can test our ECO-Skate® eMotion trolleys for themselves from 24 to 30 October 2022 in hall C4 at stand C4-653.